PF Impact Crusher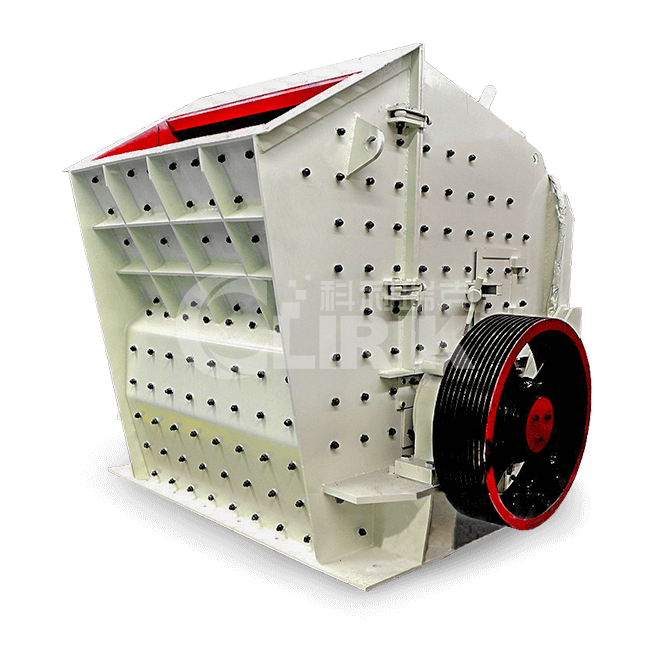 PF Impact Crusher
Output Size: 0-200 mm
Feed size: 350 mm
Capacity: 50-260 t/h
Use Range :Calcium Carbonate、Dolomite、Gypsum、Carbon Black、Glass、.Gypsum、Kaolin、 Marble …
Application : Mining, Chemiscal, Transport and many other different areas.
Product Parameter
| Model | Rotor Φ×L(mm) | Feed Opening(mm) | Max Feeding(mm) | Capacity (t/h) | Power (kw) | Motor Model | Machine Size(mm) |
| --- | --- | --- | --- | --- | --- | --- | --- |
| PF1010 | F1000 × 1050 | 400 × 1080 | 350 | 50-80 | 4-75 | Y280S-4/75 | 2455 × 2086 × 2800 |
| PF1210 | F1250 × 1050 | 400 × 1080 | 350 | 60-120 | 6-110 | Y315L1-6 / 110 | 2590 × 2050 × 2810 |
| PF1214 | F1250 × 1400 | 400 × 1430 | 350 | 80-160 | 6-132 | Y315L2-6 / 132 | 2590 × 2400 × 2810 |
| PF1315 | F1300 × 1500 | 860 × 1520 | 350 | 120-260 | 6-200 | Y355M3-6 / 200 | 2930 × 2760 × 3050 |
Product Overview
PF impact crusher is a single-rotor impact crusher. The PF impact crusher designed by absorbing advanced technology at home and abroad can handle various materials with a compressive strength of no more than 360 MPa. It has the characteristics of large crushing ratio, high crushing efficiency and convenient maintenance. Most of its products are cube-shaped and have uniform particle size. They are ideal processing equipment for aggregates used in advanced highway pavement and hydropower construction. Due to its excellent performance and good performance, impact crusher is widely used in highway construction, water conservancy projects and construction, chemical industry, coal, coke and other industrial sectors with gravel processing and other fields.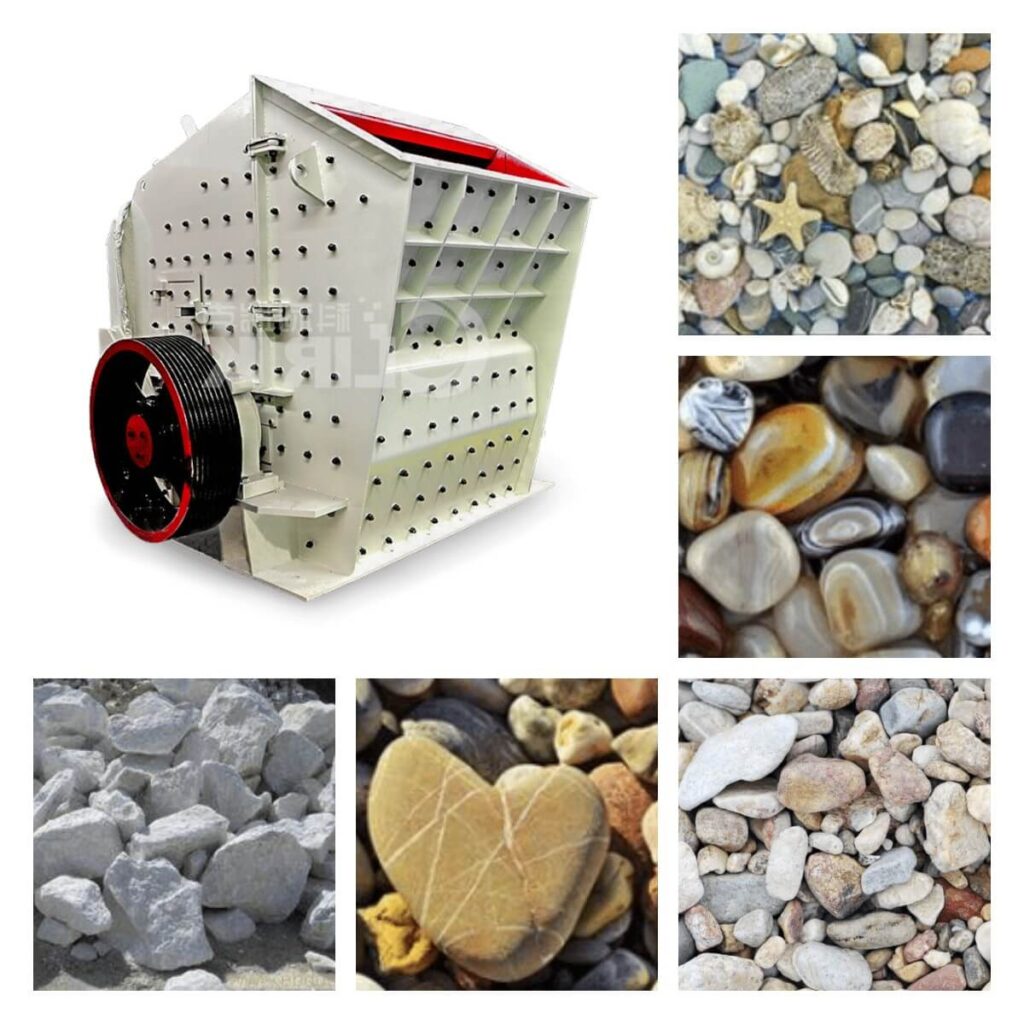 Application Materials
PF impact crusher application Almost all minerals, such as quartz, feldspar, mica, calcite, gypsum, fluorite, limestone, soil, clay, marble, granite, pebble, coal, slag, iron ore, copper ore, manganeseore, refractory material, glass, etc.
Working Principle
The main working part of the PF impact crusher is a high-speed rotating rotor with a plate hammer, and the rotation of the rotor is to make the plate hammer hit the material input at the feed port from bottom to top (the rotor rotation of the hammer crusher is to make the hammer move in the same direction. The material is hit by the falling direction of the object), and the material is impacted by the scoop. It was thrown to the counterattack plate in the casing at high speed, and received a second impact. Then it bounces out of the counterattack plate and is hit again by the plate hammer. The above process is thus repeated. During the back-and-forth impact process, the material blocks also collide with each other. Because the material is hit by the plate hammer, the impact of the counterattack plate and the collision with each other. Cracks and loosening are continuously generated inside, and finally lead to breakage. When the material block is broken to a size smaller than the gap between the hammer end and the impact plate, it is discharged from the gap.
Performance Feature
PF impact crusher is composed of rear box, impact lining plate, impact frame, lining plate, feed port, base, plate hammer, rotor frame and so on.
The PF Impact crusher is suitable for hard rock crushing and high efficiency and energy saving. The machine is optimized into low-speed, multi-cavity impact crusher, its linear speed is reduced by 20%-25% compared with the general impact crusher, and high production capacity is obtained with low energy consumption.
The PF Impact crusher Unique structure, keyless connection. A kind of chromium, molybdenum and vanadium alloy material with high wear resistance and toughness has been developed by new manufacturing technology, which has solved the problem of hard material crushing. It greatly improves the service life of the plate hammer.
The PF impact crusher has high chromium plate hammer and unique toothed impact lining plate. Reasonable plate hammer structure has the advantages of fast loading and unloading, multiple transposition, etc., which can greatly shorten the time for changing the plate hammer.
PF Impact crusher has The functions of three-stage crushing and shaping. The finished product is in the shape of a cube, no tension crack, good grain shape, adjustable discharging particle size, simplify the crushing process.
PF Impact crusher easy maintenance, simple and reliable operation. PFV hard rock impact breaking is equipped with multi-functional hydraulic station, with hydraulic high-speed discharge clearance, impact plate stability vibration reduction and automatic opening of the body and other functions.
1. Multi-cavity uniform crushing, high efficiency and energy saving.
2. Low and large feed opening, easy to increase production line layout and feed size.
3. Full hydraulic opening for easy maintenance and replacement of wearing parts.
4. New wear-resistant materials have longer service life.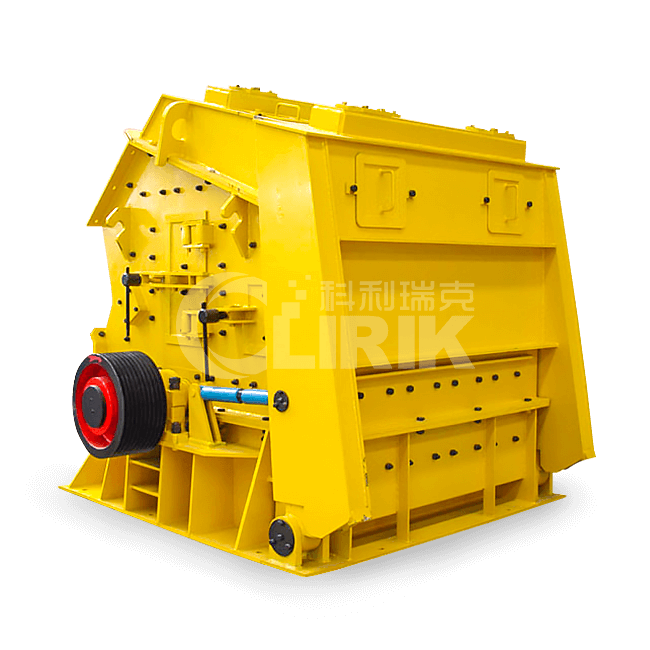 Company Introduction
SHANGHAI CLIRIK MACHINERY CO., LTD located in PUDONG New district of Shanghai china as a professional enterprise, which is specializing in research, manufacture and sales of all kinds of mining equipment. Our company has already formed a full set of modern production line, equipped with intelligent,standardized testing and controlling laboratories, owned a professional team for R&D, production, sales and service.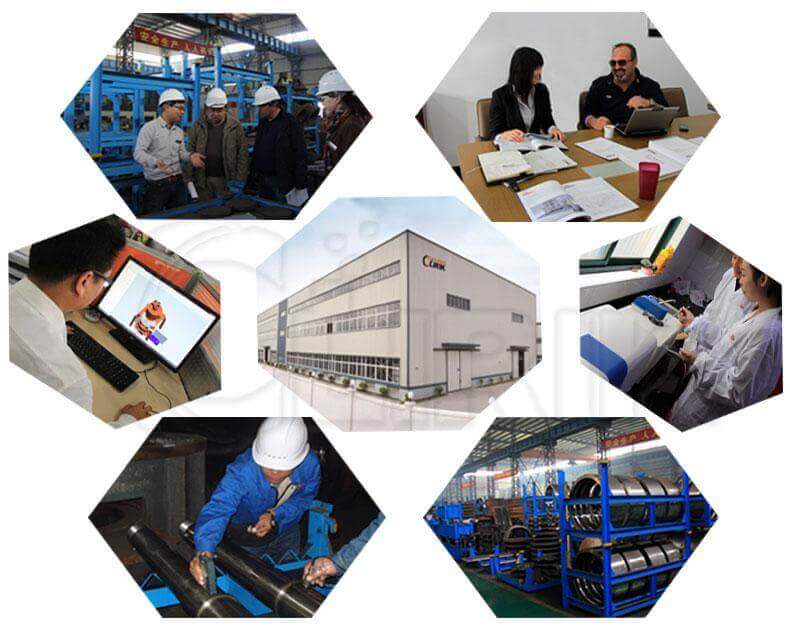 What can we do for you ?
Pre-sale service:

1. Clirik provides a variety of mining equipment for you to choose from.


2. Clirik will recommend suitable production lines and grinding equipment to you according to your site.


3. Clirik customizes the logo and color of the grinding equipment according to your company image.


4. Clirik provides third party inspection to ensure the quality of your grinding equipment.


After-sales service:

1. Clirik provides you with online installation and use videos.


2. Clirik will provide you with technicians to install and debug the grinding equipment.


3. Clirik trains you the technicians who use and maintain the grinding equipment.


4. Clirik provides you with a one-year warranty and lifetime service for the grinding equipment.