TH Series Bucket Elevator
Introduction of TH series bucket elevator
The TH bucket elevator is a kind of vertical conveying equipment, widely used in conveying powder, granule and small lump of no rub or small rub (material temperature under 250 ℃), such as coal, cement, gravel, sand, fertilizer, food, etc.
The main performance and parameters meet JB3926-85 vertical bucket elevator; the round-link chain accords with MT36-80 mineral high strength round-link chain.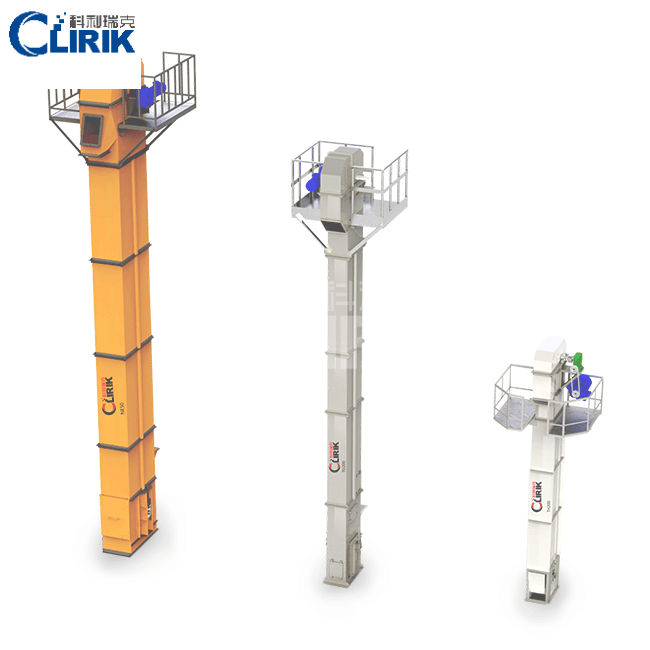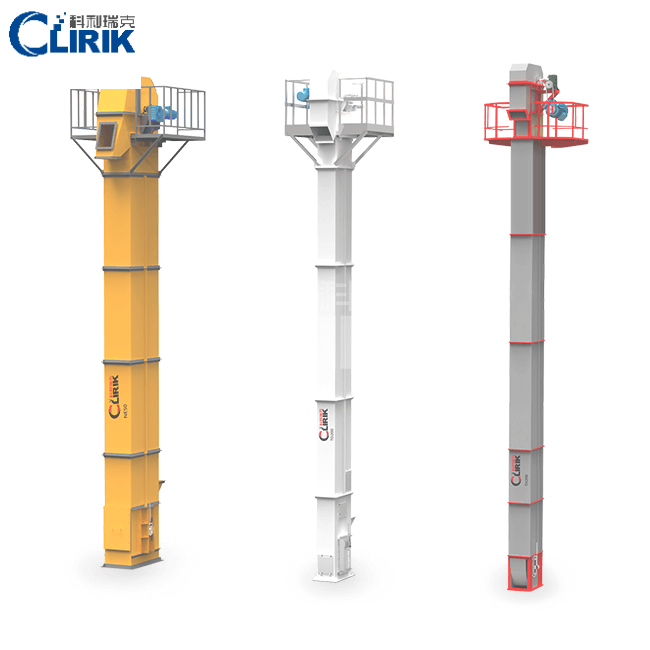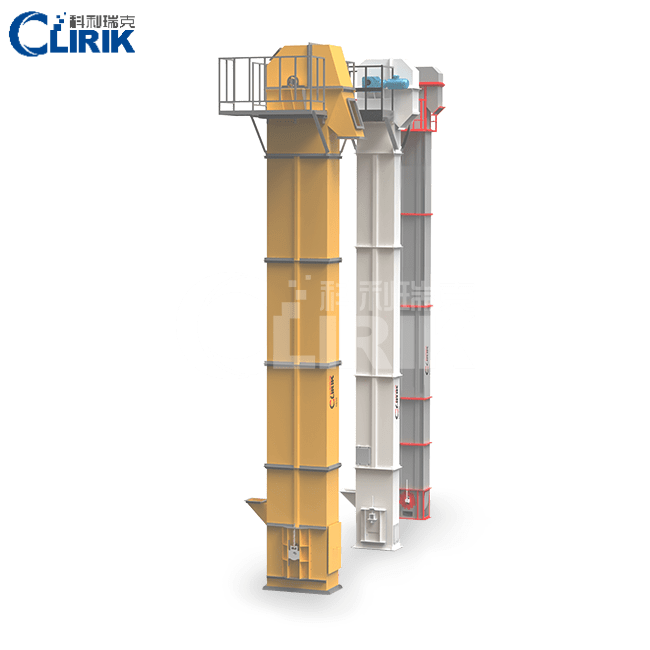 TH series bucket elevator consists of frame, drag part (conveyor chain), hopper, drive wheel (head wheel), feeding inlet (input inlet) and discharging outlet (output outlet). The materials get into the bottom of the elevator through chute, then scooped up by hoppers and elevated to the top along with the conveying chain. After get round the top wheel, the materials turn down into the discharging outlet, thereby conveyed to the required position. The whole process is accomplished inside the frame, preventing the dust floating.
The drag part uses high strength high quality alloy steel chain. Sprocket wheel with the sprocket rim composite structure has long lifetime and easy to replacement. The lower part using the gravity automatic devices can keep constant tension force, avoid skid or take off the chain and get certain yieldability, effectively protect lower shaft parts and other parts when hoppers get stuck accidentally.
Advantage of TH series bucket elevator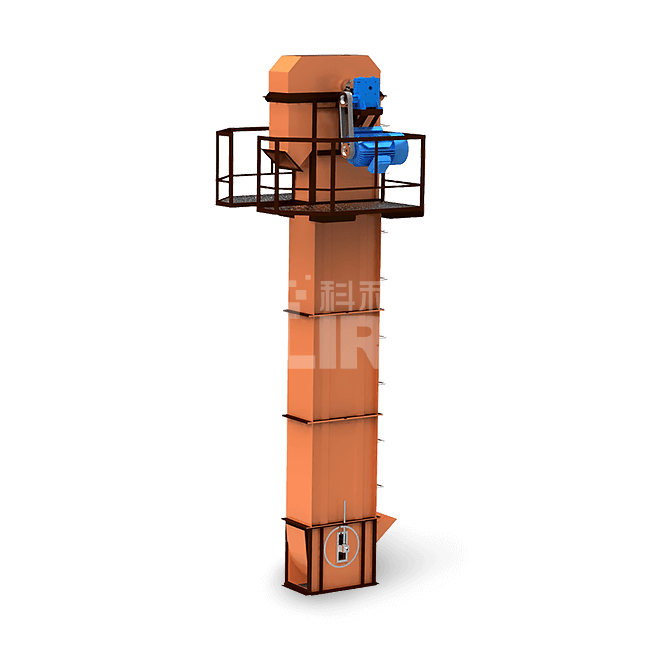 1. High capacity. The capacity is 1 times higher than the HL bucket elevator in the same bucket width.
2. Adopt packaged sprocket, consisted of wheel body, sprocket rim which are connected by high strength bolt. It is convenient to unscrew the bolt and change sprocket rim after the sprocket wheel wear to a certain degree, which can save material, reduce the maintenance costs.
3. The heavy-duty lever tensioning device makes automatic tension be realized. Once installed, no need to adjust, and it can keep constant tension, ensure the normal operation and avoid the skid or take off the chain.
4. Stable lifting height, reliable operation, low noise, easy maintenance.
5. The conveying capacity of improved model is 30% higher than normal models.
6. The drag part is high strength low alloy steel chain whose lifetime is long. After proper heat treatment, the steel chain has very high tensile strength and wears resistance.
Product of TH series bucket elevator
Link Chain Bucket Elevator Model

TH160

TH200

TH250

Hopper Type

ZH

SH

ZH

SH

ZH

SH

Capacity/(m³/h)

15.77

24.97

17.87

28.6

31.43

48.19

Hopper

Volume (L)

1.2

1.9

1.5

2.4

3.0

4.6

Interval (mm)

500

Chain

Round Steel Diameter*Pitch(mm)

14*50

Single Load(KN)

≥190

Hopper Running Speed/(m/s)

1.2

1.2

1.2

Drive Sprocket Rotation Speed(r/min)

69.71

63.22

44.11

Conveying largest size(mm)

20

25

30
Link Chain Bucket Elevator Model

TH315

TH400

TH500

TH630

Hopper Type

ZH

SH

ZH

SH

ZH

SH

ZH

SH

Capacity/(m³/h)

35

59

58

93

81

130

145

210

Hopper

Volume (L)

3.75

6

5.9

9

9.3

15

15

24

Interval (mm)

512

688

Chain

Round Steel Diameter*Pitch(mm)

φ18*64

φ22*86

Single Load(KN)

≥320

≥480

Hopper Running Speed/(m/s)

44

37.6

39.7

35.8

Conveying largest size(mm)

35

40

50

60
​Manufacturers of TH series bucket elevator
Shanghai Clirik Machine Co., Ltd. has a professional technical force and perfect production capacity. The company's products are widely used in mining, road construction, bridge construction, housing construction and other industries, crusher, ultra-fine grinding mill, feeder, vibrating screen, sand washing machine, conveyor and other equipment and series of products, all passed the ISO9001:2000 standard quality certification.
If you want to know more about our product please click here to leave us a message. Our sales manager will get in touch with you later.
This is our company, welcome you to visit, choose us more at ease.
FAQ
1. Do you have an after-sales service?
All of our products have after-sales quality assurance services.
2. How long is your delivery time?
Generally, it is 10-15 days if the goods are in stock.
or it is 15-20 days if the goods are not in stock, it is according to quantity.
3.​ How to carry out transportation?
Express, sea transport, land transport, air transport, self – lift can be based on your needs.
4.​ What are the terms of payment?
L/C, Western Union, D/P, D/A, T/T, MoneyGram, Alibaba.com Pay, cash.
5. Are you a middle man or a manufacturer?
Our Shanghai Clirik Machinery is a professional mining equipment manufacturer.
We are in PuDong new area, HeQing town, FuQing road, No. 19, Shanghai, China.