PY Series Gypsum Powder Cone Crusher
Product Overview Of PY Series Gypsum Powder Cone Crusher
PY series gypsum powder cone crusher has excellent crushing efficiency and a good hydraulic control system. It is applied to cement mills, mining, building construction, road &bridge construction, railway construction and metallurgy, and some other industries. Materials like iron ore, granite, limestone, quartzite, sandstone, cobblestone, and some others are easily crushed by cone crusher. PY series gypsum powder cone crusher is based on the latest technology and decades of production experience and the latest technology developed by Clirik.

Product Parameter Of PY Series Gypsum Powder Cone Crusher
Model
Diameter of Bottom End of Conical Crushing Head
(mm)
Max feeding size
(mm)
Adjustment range of discharge opening
Capacity
(t/h)
Power
(kw)
Rev. of Eccentric shaft
Weight (Ton)
Overall dimension
(mm)
PYB600
600
75
12-25
40
30
356
5
2234 × 1370 × 1675
PYZ600
600
35
3-13
5-23
30
356
5.3
2234 × 137 × 1675
PYB900
900
115
15-50
50-90
55
333
11.2
2692 × 164 × 2350
PYZ900
900
60
5-20
20-65
55
333
11.2
2692 × 164 × 2350
PYD900

900
50
3-13
15-50
55
333
11.3
2692 × 164 × 2350
PYB1200

1200
145
20-50
110-168
110
300
24.7
2790 × 1878 × 2844
PYZ1200
1200
100
8-25
42-135
110
300
25
2790 × 1878 × 2844
PYD1200
1200
50
3-15
18-105
110
300
25.3
2790 × 1878 × 2844
PYB1750
1750
215
25-50

280-480
160
245
50.3
3910 × 2894 × 3809
PYZ1750
1750
185
10-30
115-320
160
245
50.3
3910 × 2894 × 3809
PYD1750

1750
85
5-13
75-230
160
245
50.2
3910 × 2894 × 3809
PYB2200
2200
300
30-60
490-750
260-280
220
80
4622 × 3302 × 4470
PYZ2200
2200
230
10-30
200-580
260-280
220
80
4622 × 3302 × 4470
PYD2200
2200
100
5-15
120-340
260-280
220
81.4
4622 × 3302 × 4470
Product Advantage Of PY Series Gypsum Powder Cone Crusher
1. Safe and stable operation.
PY series gypsum powder cone crusher use of circular bevel gear makes the equipment run more stable, less noise, higher transmission efficiency; hydraulic protection, crushing chamber automatically reset after overload.
2. Easy to use.
PY series gypsum powder cone crusher Pressure adjustment outlet size, easy to remote control product granularity, save labor, save trouble; easy replacement of wearing parts, completely get rid of the trouble of packing when replacing wearing parts of spring cone crusher.
3. Production of large.
PY series gypsum powder cone crusher perfect combination of stroke, swing frequency and crushing cavity shape makes the output of the machine increase by more than 40% compared with the spring cone crusher. With the INPUT of high swing frequency, large stroke and high energy, the material is crushed in the crushing chamber, and the cube content in the product is significantly increased.
4. Strong bearing force.
PY series gypsum powder cone crusher the upper and lower ends of the spindle are supported, which can withstand greater crushing force and greater stroke.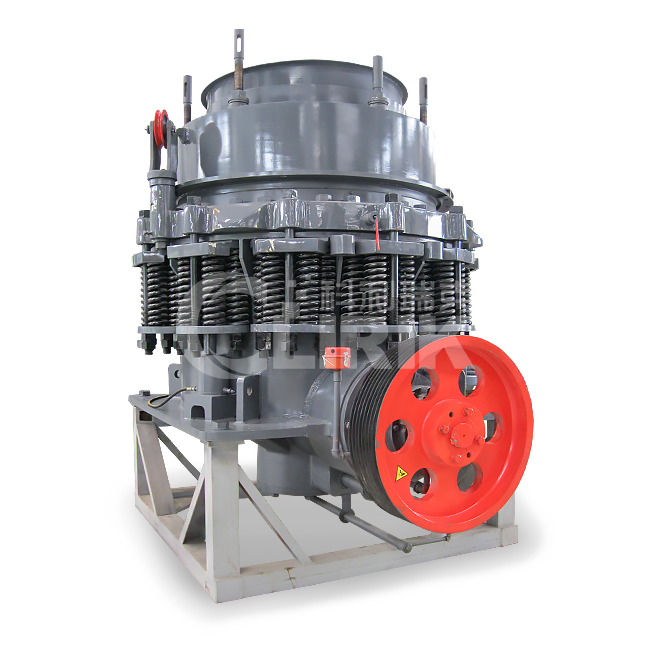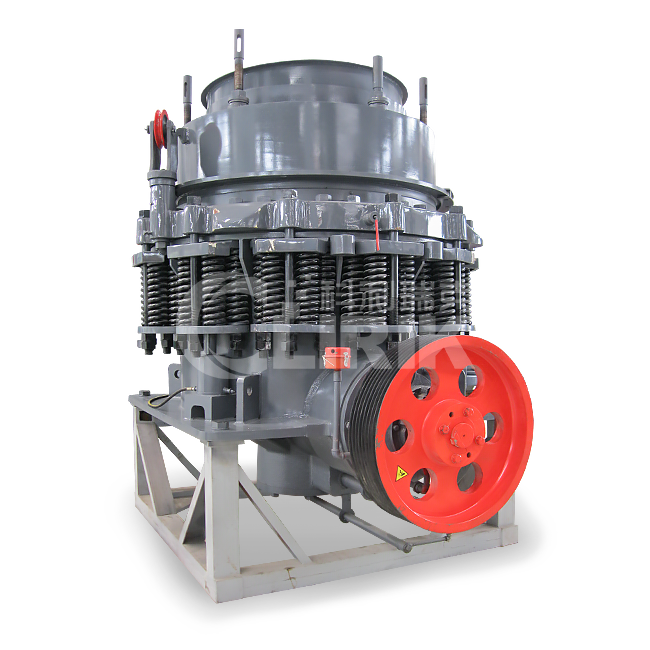 Working Principle Of PY Series Gypsum Powder Cone Crusher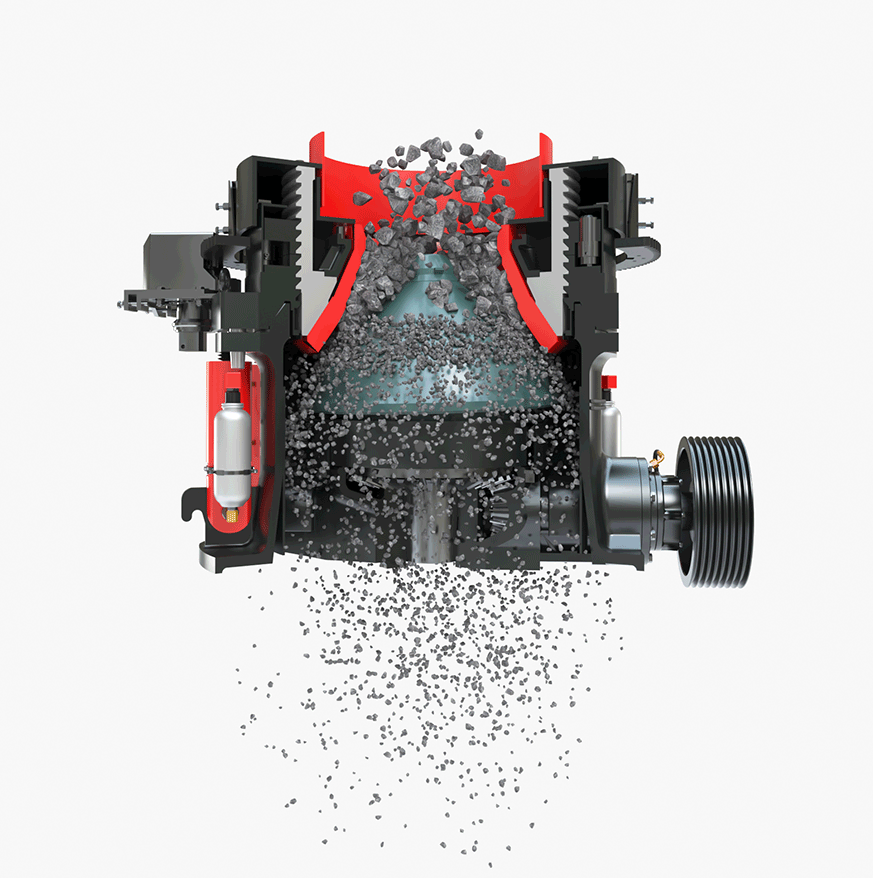 PY series gypsum powder cone crusher composition
Hydraulic system: This machine has a hydraulic system to adjust the size of the crusher discharge port. The hydraulic system can effectively ensure the safe operation of equipment. When there is a foreign body in the crushing chamber, the hydraulic system can make the moving cone automatically back down. When the foreign body is discharged, the system will make the moving cone automatically reset.
Crushing cavity type: Crushing cavity type refers to the geometric space formed between the moving cone and the fixed cone. The shape of the crushing cavity has a great influence on the performance of the machine. The cavity type of crusher is the main technical index of crushing.
PY series gypsum powder cone crusher working principle
In the working process of PY series gypsum powder cone crusher, the motor drives the eccentric sleeve to rotate through the transmission device, the moving cone is forced to swing under the eccentric shaft sleeve, the moving cone near the static cone section becomes the crushing cavity, and the material is crushed by the extrusion and impact of the moving cone and the static cone for many times. When the moving cone leaves the section, the material which has been broken to the required size falls under its own gravity and is discharged from the bottom of the cone.
Manufacturer Introduction Of PY Series Gypsum Powder Cone Crusher
Company profile
Shanghai Clirik Machine Co., Ltd. has a professional technical force and perfect production capacity. The company's products are widely used in mining, road construction, bridge construction, housing construction and other industries, crusher, ultra-fine grinding mill, feeder, vibrating screen, sand washing machine, conveyor and other equipment and series of products, all passed the ISO9001:2000 standard quality certification.
Shanghai Clirik Machine Co., Ltd. is a scientific and technological enterprise specializing in the research, development and production of industrial powder making, construction sand making and mining crushing equipment. It is a production enterprise of mining technology and equipment, located in the core economic zone of the Yangtze River Delta with convenient water, land and air – Shanghai, and it is a technical enterprise combining science and technology with traditional technology effectively.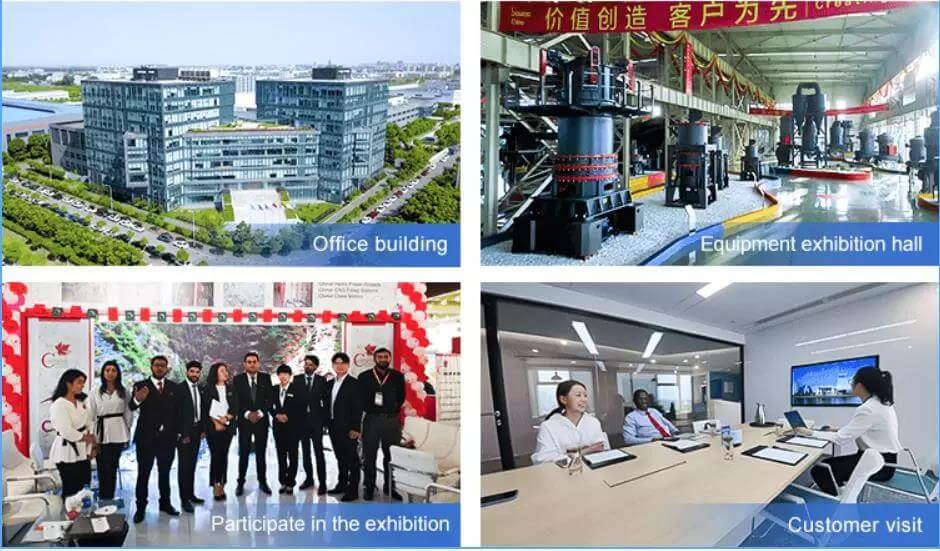 Our Technology
Clirik has more than 12,000 square meters of standardized production plant, including a processing workshop, assembly workshop, painting and sandblasting workshop, trial machine debugging workshop, finished product placement workshop, etc. The workshop is equipped with more than 100 high-end CNC machine tools of well-known foreign brands.
From drawing, assembly to debugging, the equipment manufacturing has gone through thousands of processes, including resizing, cutting, grinding, trimming, heating, forging, turning, milling, grinding and drilling, inspection, painting, assembly and test machine. Each manufacturing process is repeatedly verified by our engineers to ensure the reliability and integrity of each device. Raw materials are related to the quality of products. Our engineers have strict requirements on the selection of raw materials. National standard steel is used.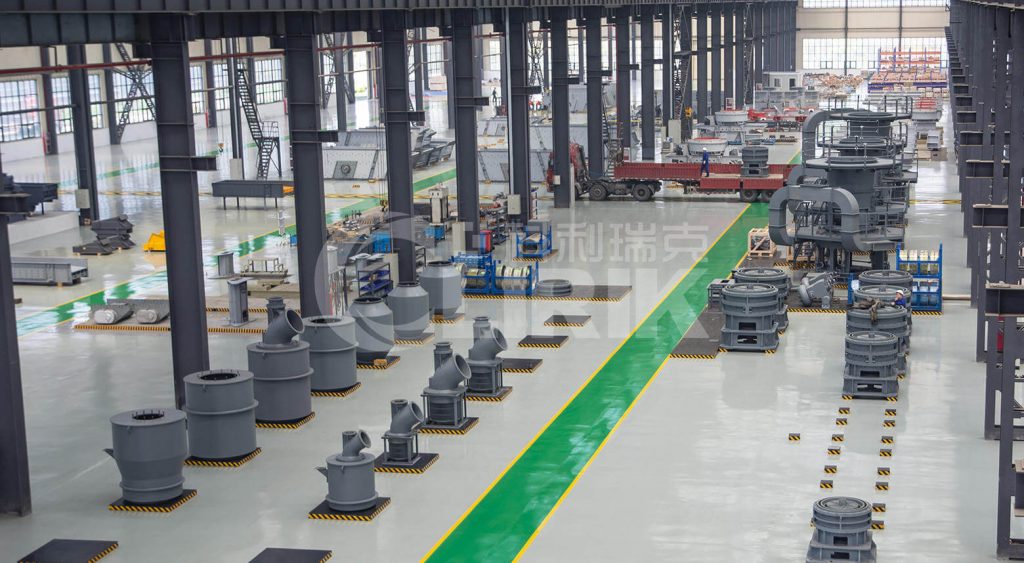 Our Certificates
We have dozens of national product patents and technology patents, and have passed ISO and CE and other international quality system management certification.

Other Product
In addition to PY Series Gypsum Powder Cone Crusher, Clirik also has many other crushing and grinding equipment, such as hammer crusher, jaw crusher, ultra-fine powder grinding mill, ultrafine vertical powder roller mill, high pressure suspension grinding mill, powder surface coating Machine, elevator, etc.

FAQ
1. Do you have an after-sales service?
All of our products have after-sales quality assurance services.
2. How long is your delivery time?
Generally, it is 10-15 days if the goods are in stock.
or it is 15-20 days if the goods are not in stock, it is according to quantity.
3. How to carry out transportation?
Express, sea transport, land transport, air transport, self – lift can be based on your needs.
4. What are the terms of payment?
L/C, Western Union, D/P, D/A, T/T, MoneyGram, Alibaba.com Pay, cash.
5. Are you a trading company or manufacturer?
We are a factory.
6. If I need an ores stone powder production line, can you help us to build it?
Yes, we can help you set up a complete production line and give you related professional advice. We have already built many mining projects in China & overseas.